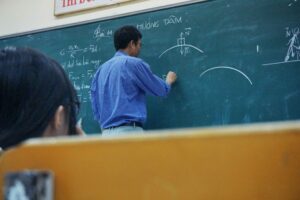 Hello, I am Professor P. Professorson. Welcome to ABCD 1234!
If this was a real About Me page, I would include details about courses I have taught; if they've been in the open and/or I have permission from students, I might include links to representative assignments students can expect to complete in my classes.
I might include a few links to my writing or research at an appropriate level for the class, and a brief summary of my own educational experience. This could be a nice place to highlight any struggles in my own academic journey, or accomplishments I want my students to know about.
I can also share with students that my email is pprof@tru.ca. It's a good place to share my email policy, too, or other contact info.
And finally, I might want to end with some humanizing information — what I do for hobbies, my favourite books, or (everyone's favourite) a picture of my pet.
This is Buttons. He only marks half your assignments.